Ever come across a situation where after the completion of a self-levelling flooring project you realize that the epoxy screed had not actually leveled properly? Did you end up getting a result similar to the pics below? Typical problems with are spatula marks, puddles that didn't spread properly etc.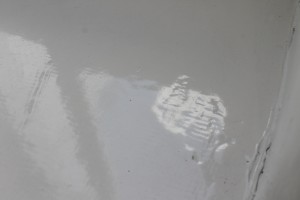 So what may have caused these problems?
1. Low application temperatures
2. Very high application temperatures
3. Not enough epoxy material used
4. Clumsy work
5. High usage of fillers
6. Poor quality product
The following two tabs change content below.
Akis has been involved in the manufacturing and application of industrial floor coatings for the past ten years. He runs learncoatings which is an online resource training professionals on the use of epoxy floors. He is also General Manager of Ktisis, a manufacturer of flooring and waterproofing coatings.
Latest posts by Akis Apostolopoulos (see all)