Do you want to become an expert in Epoxy Flooring ?
Have a look at that stunning smooth epoxy floor in the picture below. Wouldn't it be great to be able to deliver such great floors to your customers?
For you to have landed on this webpage I am sure that something triggered your interest… You can see the massive opportunities available if you learn how to properly apply epoxy floors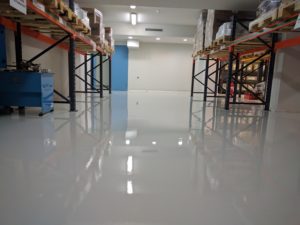 There's just one problem… You need better knowledge on how to apply epoxies. But all that information out there seems overwhelming. I've been doing epoxy floors over 10 years. And through all the ups and downs I have learnt a few things:
You need both knowledge and experience. You need the experience on the field, to realize that most floors will not look like those cute photoshopped brochures provided by the coatings manufacturers.
But you also need the knowledge. The knowledge to understand why the same product will behave very different on a cold winter day and very differently in a sweltering hot and humid day.
There is no tougher lesson for a flooring professional like showing up ten months later at your customer's door to check to see if that floor you did is holding up nicely… only to realize that it is peeling everywhere…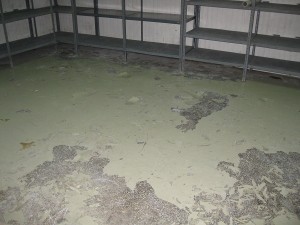 And every seasoned professional has a bubbles horror story when the whole floor filled up bubbles and pinholes on the next day.. You call up the local company rep who gives you some BS excuse about humidity rather than helping you solve the problem… But anyone who's been doing epoxy for some years, knows that it is seldom one reason that is causing bubbles. It is much more complicated than that.
So I created this online course that is jam packed with real-life knowledge and experiences from doing epoxies. Material from spending ten years in the trenches, where I share my experience both as an applicator and as a manufacturer. In fact I am so sure that you will like my material that I am prepared to give you your money back if you feel that this course was not for you. This course comes with a 30-day money back guarantee.
Upon completion of this course you will be able to:
Understand the differences between the various types of flooring systems
Confidently install glossy self smoothing floors
Eliminate problems like trowel marks, bubbles and curing issues with your products
Properly specify the right floor solution for each project
Understand the basic concepts of epoxy chemistry and the main differences between epoxies and polyurethanes
Take on more challenging projects and expand your business in the process
Understand all the necessary equipment and tools required to run a successful flooring business
How do I join the course?
So how do you join? The cost to join is just $97 (USD), which is about the cost of one large pack of epoxy coating! Imagine how much knowledge and value you will get for that price!
Click on the link or the RED button below. Enter your payment details and your email address and you will immediately get a an email with links to watch/ download the learning videos.
CLICK HERE TO JOIN THE COURSE FOR JUST $97
So who is this guy that created this course?
You can click on this 5 minute video below and meet me in person. My name is Akis Apostolopoulos and I have 10+ years of practical experience in the manufacturing and application of epoxy and polyurethane based floor coating. I have successfully completed challenging industrial flooring projects for multinational companies in sectors such as food production, pharmaceuticals, retail, and car parks. I am the owner of Ktisis, a floor coatings manufacturing company with customers in Europe, Africa and the Middle East. In 2015 I founded LearnCoatings with the purpose of improving our knowledge on epoxy flooring worldwide.
What is included in the course?
LearnEpoxyFloors is composed of six video lectures each 20-30 minutes in duration. Each video covers one epoxy flooring training module and is presented in a slideshow format with pictures from real projects.  The content of each module is described below.
Module 1 looks at the Key stages of epoxy flooring. I go through the main stages describing surface preparation, priming, grouting and then coating.
Module 2 focuses on the three most common types of epoxy floor systems: floor paints, self leveling floors and antislip floor systems
Module 3 explains some basic concepts of epoxy chemistry where we discuss the importance of the A and B components, solvents, water based products and mixing the correct proportions.
Module 4 looks at frequently asked questions. We look into substrate suitability, proper application methods as well as choosing the right products
Module 5 is all about organising your team, your supplies and the equipment that you will require to execute a flooring project.
Module 6 goes beyond epoxies and we look at other types of resinous flooring systems. We discuss polyurethanes, acrylics, MMAs and more.
What did other students have to say who completed the course?
"I always read and watch your shared articles and videos; they are really amazing and overwhelming. Your experiences are undeniable and helpful for new people in this career as well as experienced ones. I am thankful for what I can learn from you (Asghar, Iran)"
"The information in this course is much appreciated. It has really helped me in my flooring jobs" (Scott, Canada)
Thank you Akis. I am no longer making the mistakes I was making in the past. My progress has been excellent. It has been from one level of glory to another (Disi, Nigeria)"
But wait! If you sign up today you will also get TWO SPECIAL BONUSES. The first bonus is a troubleshooting guide that lists the most common problems with epoxy floors. The other bonuses are two handy checklists. The first sheet is a list with all the basic supplies that you should have when you are carrying out at an epoxy project. The second checklist is a list of nine things you should check before starting to coat the final coat on a flooring project.
What if I sign up and realize that this course is not for me?
This course comes with a 30-day money back guarantee. If for whatever reason you are not happy with the course we can arrange to have you refunded. JOIN NOW by clicking on the button below!
CLICK HERE TO JOIN THE COURSE FOR JUST $97
All payments are processed through Paypal/ Stripe to the company Ktisis-Apostolopoulos

Upon clearing of the payment, the videos and learning material will be delivered to you automatically through the digital delivery platform Sendowl

This website uses cookies. To learn more about our privacy policy click here.

If you are unable to pay via paypal or cc please contact me directly at Akis (at) learncoatings (dot) com and I will give you bank transfer/ Western Union payment details