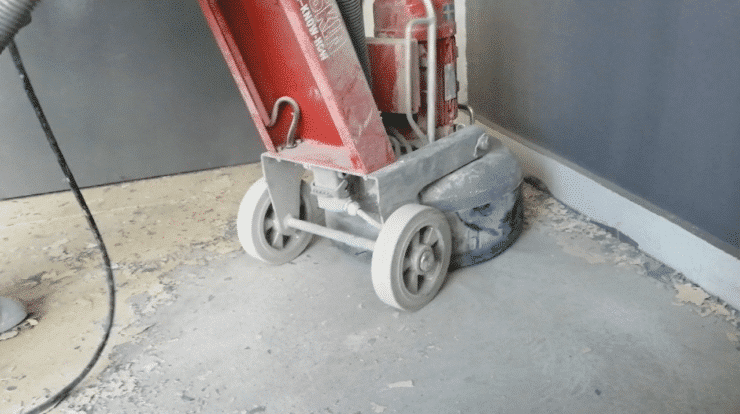 Removing old floor coatings (whether epoxy or polyurethane) is one of those labor intensive and tedious jobs that seem to go on forever.
One area of the epoxy floor seems to be peeling really easily, while another area may need a full day just to remove 20 or 30 square metres of epoxy coating.
Below I discuss the various methods that can be used how to remove epoxy from concrete.
Removing Manually by Hand
Sometimes, the simplest and easiest way to remove an existing epoxy coating is to do it manually. You will need manpower, and lots of scrapers as they tend to break down pretty quickly. The process is tedious, and I only recommend it if the coating seems to be peeling easily.
Make sure that your staff is wearing gloves and safety glasses. Broken epoxy can be quite sharp and can cause injuries.
You will also need strong disposal bags to collect the epoxy debris
Removing Epoxy with PCD diamonds
Removing epoxy from concrete by hand, only works in areas where the coating is visibly peeling. What you will experience is that most peeling floors are quite unpredictable.
I recently had to remove a floor coating for one of my customers. We spent a whole day wrestling with a small area, but then on the 2nd day, other parts of the floor seemed to be removed very easily.
This is where PCD diamonds come in handy. These diamond tools tend to have sharp little edges that make it easier for your diamond grinder to break up the epoxy. In the video below we demonstrate how PCD diamonds work.
PCD diamond grinding can speed up your productivity, but as I mention in the video above, you should not expect miracles.
You still might need to spend several hours grinding through a small area, especially if the existing epoxy seems to have bonded really well.
In any case every serious epoxy applicator should have a set of PCD diamonds in his tool kit. Such diamonds have bailed me out of several challenging epoxy flooring problems in the past. They are not only effective with epoxy, but they tend to be effective also with cementitious and rubber substances.
Is it always necessary to remove the epoxy coating?
A final point I want to mention that it may not even be necessary to remove the entire epoxy coating. If part of the floor is very difficult to remove, then you are better off just coating over that area.
Sometimes, epoxy that ispeeling is very localized, caused by a specific problem in that area. For example, maybe that area of the floor has trapped oils or rising humidity. In this case you may want to focus on fixing that area, rather than spending a bunch of money and resources to remove the whole floor.
In the below video, I go into more depth on how to fix a peeling floor.
Finally what are your thoughts on removing epoxy from concrete? Do you have any preferred methods?
Leave your comments below!
The following two tabs change content below.
Akis has been involved in the manufacturing and application of industrial floor coatings for the past ten years. He runs learncoatings which is an online resource training professionals on the use of epoxy floors. He is also General Manager of Ktisis, a manufacturer of flooring and waterproofing coatings.
Latest posts by Akis Apostolopoulos (see all)