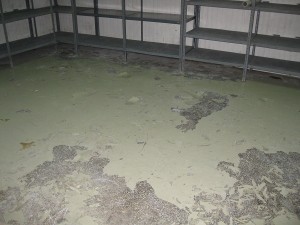 Epoxy floors will occasionally fail and peel. And when they start peeling, the floor looks ugly and all sorts of problems will emerge.
Floors that start to peel need to be fixed as soon as possible. If we let the peeling continue, the damage gets worse. A peeling industrial floor can lead to more dust in the facility and damage in the forklifts and vehicles.
However before we even consider fixing the floor, we need to understand what caused the peeling. Because if the peeling of the floor is due to a generalised failure of the epoxy installation, then you must remove the entire coating before re-coating. Examples of generalised failures could be not having applied primer, or not having specified the right thickness and product, or poor surface preparation.
Removing the previous coating and re-coating can often end up costing more than the initial cost of putting in the floor. Coatings removal is tedious and expensive.
Sometimes floor peeling may be due to a localised problem. For example a certain area of the floor was contaminated. Or a burst pipe caused the epoxy coating to detach from the concrete.
Localised problems can be patched up, rather than stripping out the entire floor. But beware, any patching up of an epoxy floor will always be visible. The seams of the patch job will pick up dirt over time.
If you want to understand the issue of how to repair a peeling floor better, check out the video below.
The following two tabs change content below.
Akis has been involved in the manufacturing and application of industrial floor coatings for the past ten years. He runs learncoatings which is an online resource training professionals on the use of epoxy floors. He is also General Manager of Ktisis, a manufacturer of flooring and waterproofing coatings.
Latest posts by Akis Apostolopoulos (see all)