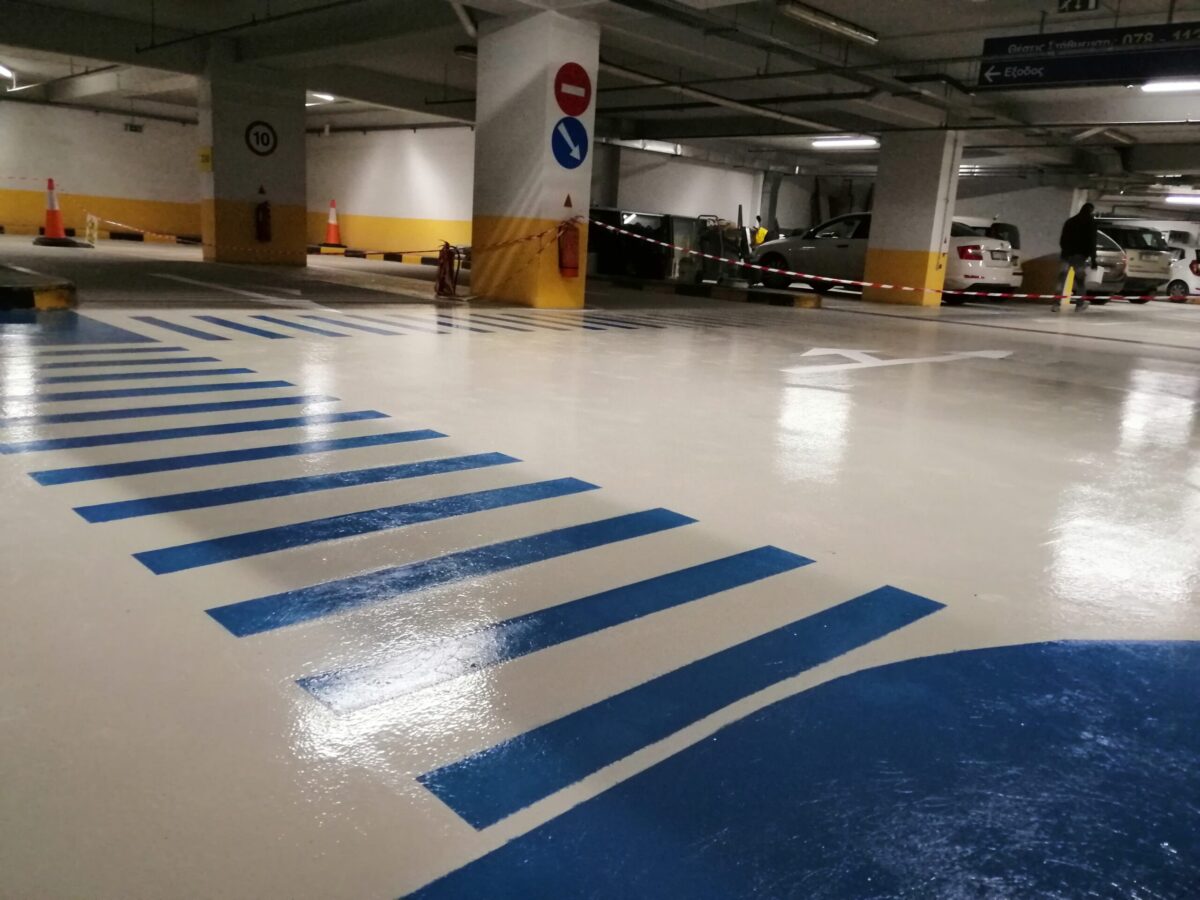 Owners of indoor car parks face a multitude of challenges with their floors. This means we can't just go ahead and apply a standard epoxy floor, but we need to take into consideration a multitude of factors.
Skidding and Safety
Skidding and safety is a very important factor. I have been called several times to propose a car park flooring solution so that cars stop skidding on a wet surface. Accidents can make owners liable for damages.
This is why many car parks specify that the key areas of the car park floor are applied with an anti slip epoxy, to prevent skidding of the cars.
Whatever you do, never apply a self leveling epoxy in a commercial car park! I don't care how beautiful it looks, you need to have a textured finish. Some customers are fine with a simple roller applied finish, although you may want to consider a quartz finish.
Such floors are usually applied by broadcasting a layer of quartz sand and applying another coat on top to create the anti slip effect. The picture below show how this system was applied in a car park floor that was facing frequent accidents from employees who were driving into walls (!)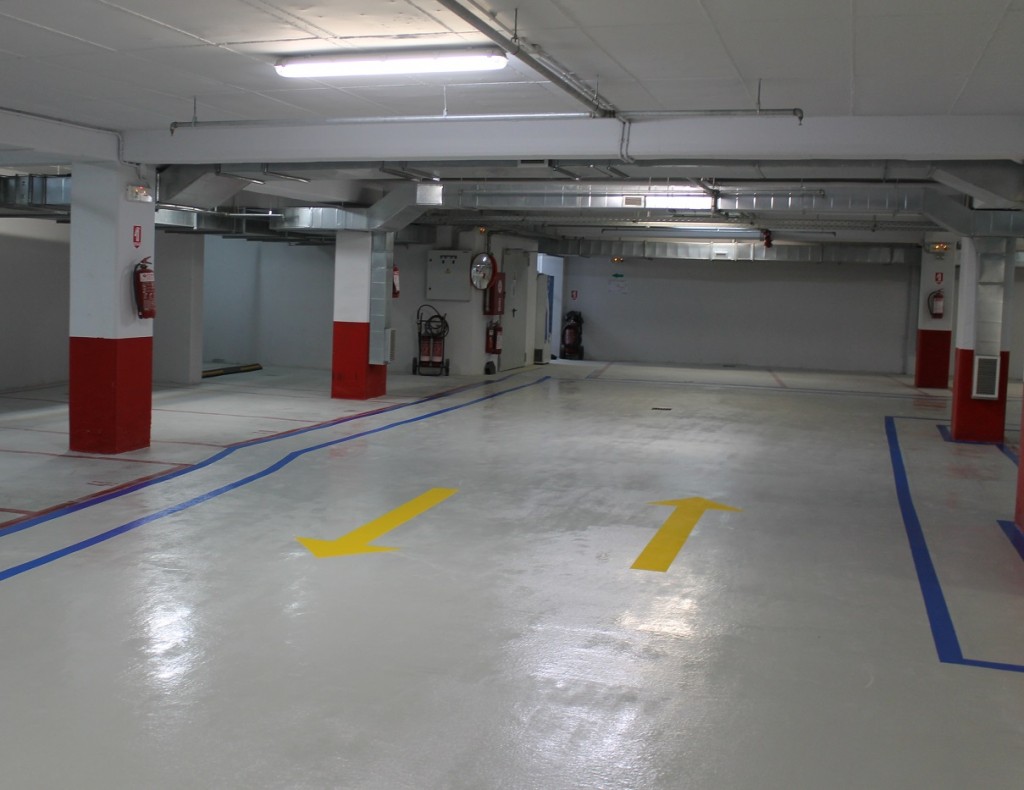 Notice the rough texture on the surface, that creates the anti slip effect. If you want to understand more about applying anti slip floors, the below video may guide you.
Proper signage, special pathways for pedestrians, and visible arrows are also very important when installing car park flooring in commercial garages. You may also want to consider using reflective traffic marking paint, this will make the signage more visible when cars flash their headlights.
Multi-Level Car Parks
When applying floor coatings in multi-level car parks, each level needs to offer some waterproofing for the level below. Otherwise your risk having damage to the concrete structure (as well as stains dripping on the cars underneath!)
This is why we tend to specify polyurethane floor coatings in multi level carparks. Polyurethane floors are more flexible an elastic that can act as a waterproofing layer. The picture below is an example of a car parking with several floors. Each floor needs to protect the floor underneath.
Hot Tires
Finally the coating needs to be strong enough to withstand hot tires causing the coating to peel. This means you should never settle for a single coat of a cheap flooring product.
A proper epoxy or polyurethane floor in a car park needs to follow the entire procedure of applying a proper floor coating. This includes grinding and cleaning the surface, applying a primer, and applying at least 2 layers of the resin system.
We also have an online epoxy flooring course if you want to go deep, and learn more about applying all types of epoxy floors.
For more information on car park flooring, check out this video below!
The following two tabs change content below.
Akis has been involved in the manufacturing and application of industrial floor coatings for the past ten years. He runs learncoatings which is an online resource training professionals on the use of epoxy floors. He is also General Manager of Ktisis, a manufacturer of flooring and waterproofing coatings.
Latest posts by Akis Apostolopoulos (see all)