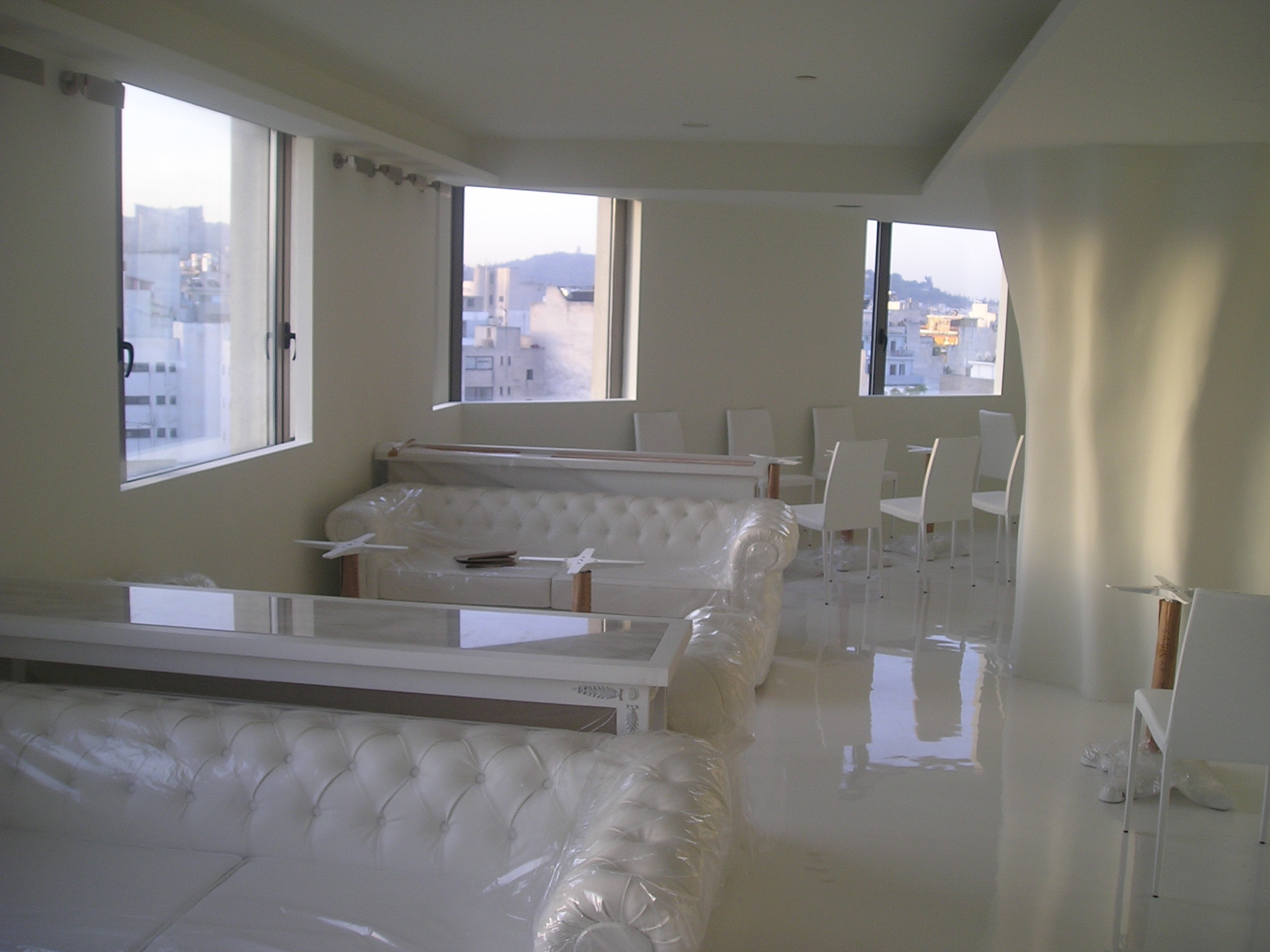 This story goes back 7-8 years. It was in the leadup to the Christmas holidays and I got an inquiry to install a decorative epoxy floor for an office space. The last couple of months of that year had been slow so I was eager to pick up a project right before the end of the year.
As I went to meet the client for the first time, I should have paid attention to various red flags that were clearly visible. But I was so eager to get the project, that I basically ignored them. The customer was looking to renovate the entire office area within a very narrow time frame (during the weeks of Christmas and New Years). It wasn't just the floor he wanted to fix, he was also planning to do paint jobs, dry wall, electrical wiring and more.  I expressed my doubts if he could get all that done in such a narrow time frame but the he was the type of character that never took no for an answer and just seemed oblivious to dangers ahead.  (Red Flag #1)
This was one of those family owned business where there were several family members involved in the decision making process. Everyone wanted to have an opinion, there seemed to be a tone of underlying rivalry among the family. They kept on asking for new sample boards and it soon became clear that they hadn't really figured out what they wanted. (Red Flag #2)
They finally gave me the go-ahead at the very last possible moment, two days before Christmas. I asked for an advance where I got a somewhat flaky response, "you know because of Christmas our accounting department may not be able to pay you before the new year etc" (Red flag #3)
Acting in good faith, I chose to go ahead and start the project anyway. As we showed up for work the day after Christmas we realized that there were several other technicians working in our work area. I complained to the client that I was expecting an empty floor and he responded "why don't you start in that room and then move on to the other rooms" … Anyone who has worked in epoxies knows that you can't just start grinding and priming in room #1 and never mind if the dust goes into the other rooms where someone might be painting the walls.
On the 2nd day and after much pressure we finally got the floor to ourselves. The work wasn't easy as the crew needed to grind old pvc glue off the concrete. As we slowly progressed and we reached the priming phase we ran into another problem: The weather had changed. The mild Greek winter had turned into a rather chilly cold spell with temperatures under 5 degrees C outside. We assumed that the air conditioners  would keep the room warm. But much to our disappointment we learnt that the electrician had them disconnected as he was doing some re-wiring in the entire building.
As we put down the base-coat in cold conditions we realized that it would take much longer to dry, and we would basically need at least an extra 1-2 days to complete the work.
(click here to learn how cold temperatures affect the curing of epoxy floors)
But we were in for more nasty surprises: We came to work in the morning only to notice deep footprints throughout the cured base coat. Apparently the IT guy needed to check something in the server room and the only way to access this was through our floor. He decided to step on a semi-cured floor without asking us, which basically set as back another day as we needed to patch up the damage.
I could go on and on with everything that went wrong in this project.  At some point, while my crew were applying the top- coat, the family members were still arguing over which sample board they should have chosen, and they were asking me if it would be possible to make some changes (!)
One problem had led to another problem that basically led to a project seriously behind schedule. The clients were not able to re-open their offices in time and this  led to some operational problems for them. In the end this project became a nasty exercise in finger pointing and who was to blame for all the delays.
Experiences like these have taught me many lessons over the years. It is easy to blame a problem client for a project that falls apart but ultimately the responsibility lies within ourselves.
Some key points I always try to remind myself:
Just because you are selling something that the client needs it does not necessarily mean that you will make a good fit. Look out for the red flags and bad vibes. If you are getting a bad feeling trust your gut and stay away from the project.
Document everything. Start by having a detailed proposal with your responsibilities and the clients responsibilities. For larger projects draft up a contract and get all sides to sign it before starting work. During the project take a lot of pictures, and inform the client in writing any time a problem arises that could threaten the progress of the project.
Only commit to tight deadlines if you know that you will have full control of the parameters that could affect the timetable. If you are dependent on external factors such as waiting for other crews to finish their work first, you need to make this very clear to the customer. In construction there is a general tendency to underestimate the actual time required to complete projects.
Always ask for an advance payment, especially when working with new clients. It is not just about covering some of your costs but it is also a great way to qualify the client and to get them to invest in the successful completion of the project.
Psychology can be a massive factor when negotiating a project . No matter what you are going through, try to keep your mind clear and assess all the factors influencing this project objectively.
In case you are wondering how the above epoxy disaster story turned out, we delivered the project about a week later than we were supposed to. I eventually did get paid but I had to go through some drama to get the money. I remember several weeks after the project when I met with the client, he told me in a rather relaxed manner I guess there was no reason to rush things through.
And that's my point number 6. Things may always seem urgent, but in hindsight nothing is actually that urgent.
(The photographs displayed in this article are not from the project in question)
The following two tabs change content below.
Akis has been involved in the manufacturing and application of industrial floor coatings for the past ten years. He runs learncoatings which is an online resource training professionals on the use of epoxy floors. He is also General Manager of Ktisis, a manufacturer of flooring and waterproofing coatings.
Latest posts by Akis Apostolopoulos (see all)